A Day in the Life: Three Women Discuss Their Daily Duties as School Bus Mechanics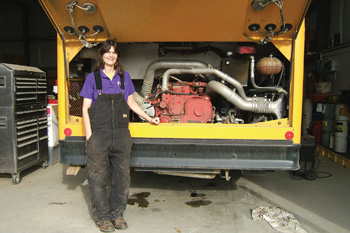 Dawn Lair manages a fleet of eight school buses, four vans, three cars and five trucks in the Live Oak Unified School District in northern California. She is one of three women profiled in our March magazine edition.
A typical day begins at 5:30 a.m. and include four hours of driving and four hours of maintenance, paperwork and mail delivery. She does paperwork until her morning route begins at 6:30 a.m. and is usually completed by 8:a.m. She delivers the mail and does transportation scheduling and performs maintenance until lunch at 11:30 a.m.
She begins her afternoon route at 2:15 p.m. which is completed by 4:30 p.m. Lair says that's the way her day should go. Lair is required by California law to perform a bumper-to-bumper inspection on the buses every 45 days or 2,000 miles, whichever comes first. She performs all the preventative maintenance on all the vehicles. She said she does not have time to perform major maintenance and the maintenance she performs usually takes two hours or less. This includes oil and filter changes, batteries, starters, alternators, hoses, belts, seat repair and lights.
She also fuels and cleans the interior an exteriors of the cars and vans that are going on trips, which she shares with another driver. The easiest work she performs is replacing light bulbs, which she finds amusingly ironic because that was all she was allowed to do when she started as a mechanic in the U.S. Air force. The most difficult task she performs is replacing a broken transmission or coolant lines when the engine is hot and broken down on the side of the road.
Joni Lupille, meanwhile, is the only woman mechanic on a crew of six at Peninsula School District in Gig Harbor, Wash. She helps keep the district's 88 buses operational. Her day begins at 6 a.m. Alone, she checks night notes left by the two night mechanics. If nothing is pending, she looks to see which buses are due for service. That means oil and filter changes, state patrol inspections, tire pressure, interior and exterior lights. She puts the bus on a lift to check the tires. She also checks potential exhaust leaks, the shocks and springs.
Every other day she breaks away at 9:30 a.m. to fuel vehicles, returning to the shop at 11 a.m. She performs just about every maintenance and repair job in the shop, and she says there's nothing she can't do. One thing she says she does better than anyone else is replacing catalysts in the bus exhaust systems. The easiest job she does is changing light bulbs. The most difficult she says is chasing down shorts in the electrical system. Lupille said she would rather take down a turbo from the engine .
Kris Saulsbury could be said to have multiple personalities. As a supervisor, driver, bus mechanic and transportation secretary, she says most of her days at Lexington School District in Lexington, Neb., aren't so typical. She has to be ready to do everything from working on buses to shoveling snow so the buses can get out of the garage.
Her day usually begins at 7 a.m. The first order of business is making sure the buses, drivers and bus aides are ready to run the 11 part-time morning routes. If someone calls in, she fills in as a driver or bus aide. After the routes she listens to any concerns expressed by drivers and deals with them in a triage-type manner. She usually gets about an hour at her desk in the morning to check messages and emails.
She hires drivers and keeps them current on their CDLs, school bus permits, physicals and CPR classes. She also sets the activity schedule for field trips and sporting events and school functions and makes sure the buses and drivers are ready to go. Then, Saulsbury makes sure the administration vehicles are fueled and ready for any staff member who needs one. The district has 19 yellow buses, two motor coach buses, five 10-passenger vans and 12 maintenance vehicles.
Saulsbury's regular maintenance chores include replacing window wipers, interior and exterior bulbs, checking engines for leaks and communicating any "out-of-the-ordinary" issues to the off-site, contracted mechanics that handle the major repairs. She says her easiest maintenance duty is delivering the buses to the off-site mechanic. The most difficult she says is finding the time to learn more about diesel engines and having a shop to work in. She shovels snow, picks up trash, paints and does whatever is needed from the maintenance side of her job.
Her direct supervisor is the director of buildings and grounds. Saulsbury is his secretary and as such, she picks up and delivers mail and freight to the elementary schools and tracks inventory on consumable products and copy paper delivered to the schools.
View the article on STN Online