The CE Series Powered By Gasoline - Purpose-Built For The School Bus Industry
Based one the feedback from our customers, we set out to develop a gasoline powered, commercial-grade V8 engine purpose-built for school buses that features similar power and performance to diesel. This means immediate acceleration from a complete stop and greater hill climbing capability. In other words: a no compromise solution for school districts everywhere.
Performance - The low engine-speed design produces less noise, heat and wear for an incredibly durable engine. Competitors run at a much higher speed, which means more noise and wear on components.
Serviceable - The IC Bus CE Series offers best-in-class servicability and accessibility to both the engine compartment and engine for easy maintenance.
Greater Efficiency - Gasoline or propane, the PSI 8.8L uses the same engine block. The only change is the fuel system, making the PSI engine an easy solution for mechanics and drivers of mixed alternative fuel fleets.
One-stop Warranty - Tired of getting passed around by our competitors when it comes to warranty? At IC Bus, all warranty claims come through us, and we offer 5 years/unlimited mileage on engine, 5 years and unlimited mileage with no cost cap on engine towing, and a 7-year unlimited mileage on Allison transmission warranty.
Our CE Series with gasoline engine is purpose built-designed for stop and start operation and features similar power and performance to diesel, which allows for immediate acceleration after stops and greater hill climbing capability.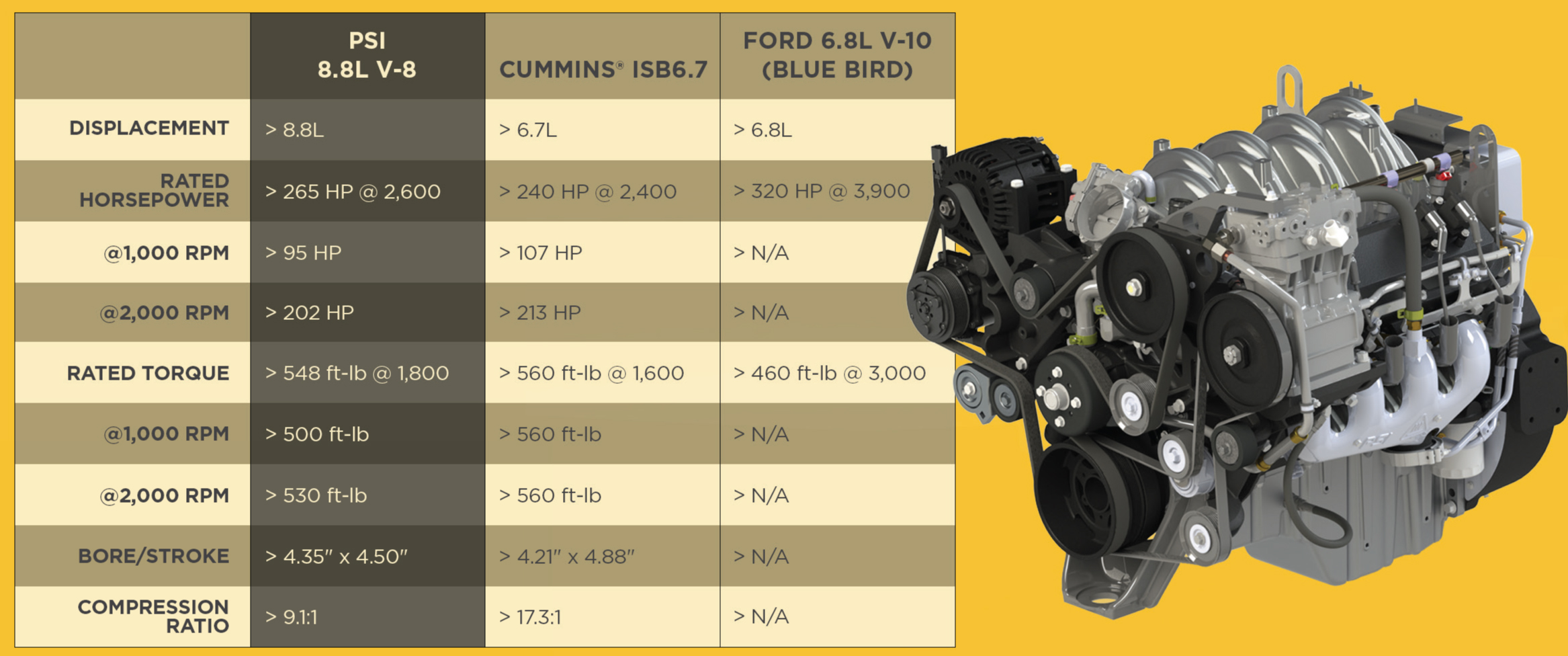 BUILT FOR THE RIGORS OF COMMERCIAL USE
Unlike others, this engine was not created from an automotive application to work in commercial vehicles; it was designed with a best-in-class commercial grade powertrain to endure the rigors of heavy-duty use.
ALLISON 2000 SERIES TRANSMISSION
Shorter, sturdier shaft has increased duribility vs. Ford
Over 44% more clutch material vs. Ford, so it holds 1st gear and lasts longer in the toughest operation
Heavy-duty park pawl better secures vehicle when you need it most
Same transmission as used in other IC Bus applications, allowing for consistency in driveability and serviceability across your fleet no matter what type of fuel
Engine Specs:
Cylinder: V8
Horsepower: 265 HP (198 kw) @ 2,600 RPM
Torque: 548 ft-lb (743 nm) @ 1,800 RPM
Bore & Stroke: 4.34" x 4.50" (110.5mm x 114.3mm)
Displacement: 535 cid (8.767 L)
Combustion System: Spark-ignited
Compression Ratio: 9.1:1