American Truck Dealers (ATD) Announce Winners of 2014 Commercial Truck of the Year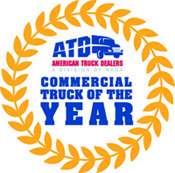 NEW ORLEANS (Jan. 26, 2014) – The American Truck Dealers (ATD) announced today the winners of the 2014 ATD Commercial Truck of the Year, an award recognizing the top truck entries in the heavy- and medium-duty categories. Winners were announced during the ATD Convention & Expo in New Orleans.
The commercial truck maker International was selected as the winner in both categories. International's ProStar with Cummins ISX15 received the heavy-duty (class 8) award; its TerraStar 4x4 received the medium-duty (Class 3-7) award.
"We are humbled to receive this award," said David G. Mannella, vice president and general manager of ITA Sales and Service, Harahan, La., who accepted the medium-duty award.
Mannella was called back to accept the heavy-duty award along with Richard Sweebe, partner in Summit Holdings, Memphis, Tenn.
"Well, I spent a long time writing my speech last night," Sweebe joked to the crowd. "I didn't know I would be doing this. Thank you."
Other nominees for the heavy-duty category were the Kenworth T880 Vocational Truck with PACCAR MX-13 engine and Peterbilt Model 579. Nominees for the medium-duty (Class 3-7) were the Hino 195h-DC, Kenworth Class 6 K370 Cabover and Peterbilt Model 220.
The winners were selected by a panel of journalists. Judging categories included innovation, design, safety and driver satisfaction.
From: NADAFrontPage.com